Pengarnddu Service Reservoir
---
We know that our customers expect a high level of reliability in relation to their supply of water. That's why we're proposing to make some improvements to our Pengarnddu Service Reservoir to ensure we continue to meet the high standards set by the Drinking Water Inspectorate (DWI).
Pengarnddu Service Reservoir, Merthyr Tydfil
The DWI have indicated that improvements to our water storage are required at our Pengarnddu Service Reservoir to reduce the likelihood of interruptions to supply and the associated water quality impact. To address this need, we are proposing to construct an additional service reservoir at Pengarddu which will be used in addition to the existing reservoir.

Before we continue with our planning application, we want to give you the opportunity to have a look at our plans and share your feedback with us. Unfortunately, due to the current Covid-19 restrictions in place we are unable to host a public information event for the local community. However, we would still welcome your thoughts and feedback on our proposed work.
What are we planning on doing?
The current Pengarnddu Service Reservoir is located in the village of Pengarddu, Merthyr Tydfil. It can be found next to Pengarddu Industrial Estate and currently serves more than 10,000 customers with a fresh supply of drinking water.

To ensure that we continue to meet the high standards set by the DWI, we need to provide additional storage that will help continue deliver a first-class service to our customers. To do this, we are proposing on constructing a new service reservoir alongside the original Pengarnddu Service Reservoir. This proposed reservoir will be built to the west of the existing service reservoir. Our proposed work will involve:
Constructing a reservoir of 61m x 50m within the landscape
New pipework to connect the new reservoir into the existing network
Building a one-storey valve house
Create footpaths to provide access to the new reservoir and surrounding chambers
Extend the site access road
Replacing part of the existing site boundary with new, secure fencing
Constructing a new pumping station and motor control centre located inside the kiosk. Both will be located adjacent to the existing reservoir.
The proposed development will include a temporary area of land which will be used as our site compound. Once the construction has been completed, this area of land will be reinstated and returned as common land.
As long as everything goes to plan, we will be aiming to carry out our excavation work throughout Spring 2021 and Summer 2021, prior to construction of the new service reservoir getting underway. We anticipate the construction and commissioning of the new service reservoir to last approximately one year.
Have your say
We welcome any feedback that you would like to share regarding our proposed work. Please get in touch by emailing our Project Leader, Stephen Campbell, at Stephen.campbell@mottmac.com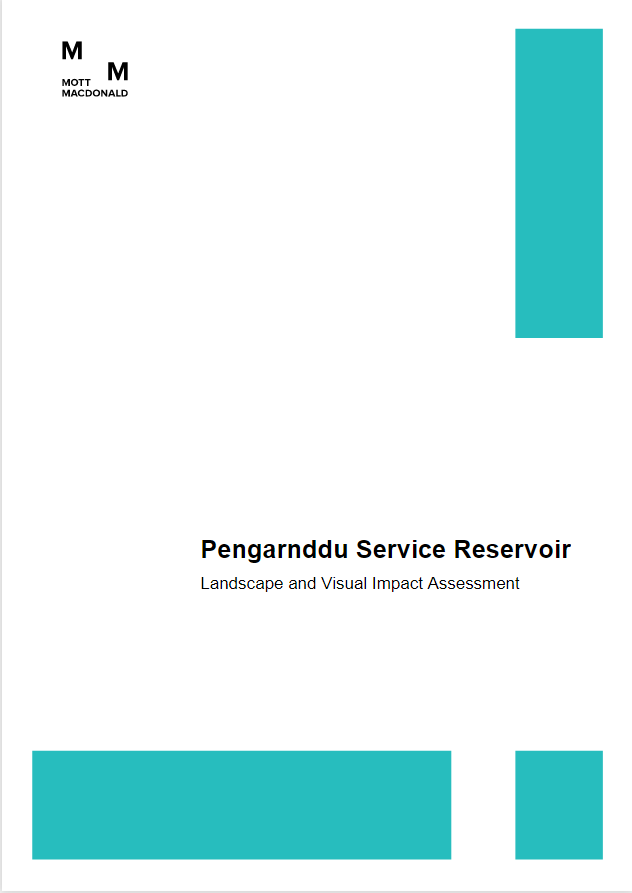 Pengarnddu Service Resevoir
PDF, 20.3MB
Landscape and Visual Impact Assessment