Bathing Waters
---
We take our responsibility to the environment seriously and that includes helping to protect our designated bathing waters. Wales is home to over a third of the UK's bathing waters, most of which are of the highest standard.
What are Bathing Waters?
Designated bathing waters are sites that have undergone an application progress to be recognised under the Bathing Water Regulations/(Directive) (2013) as a site for bathing/swimming. Once designated, these sites are then subject to sampling and publication of results. Without designation, there is no regulatory monitoring.
Who looks after our designated bathing waters?
Natural Resources Wales (NRW) & the Environment Agency (EA) sample designated bathing waters during the bathing water season (mid-May to September) to look for 2 types of bacteria (Escherichia coli and Intestinal Enterococci). Only bacteria levels are considered when assessing bathing water quality. The level of bacteria found, calculated over a 4 year period determines the classification status. These classifications are Excellent, Good, Sufficient and Poor. You can find more about your local bathing water classification, other aspects that may impact bathing water quality and sampling data on NRW's website here.
How do Dwr Cymru Welsh Water help protect bathing waters?
Natural Resources Wales are responsible for managing bathing waters and we help protect them. Our regulators issue permits to our wastewater assets with the necessary conditions to protect the water quality of the receiving waterbody.
We might have an extra requirement to disinfect our treated effluent near designated bathing waters. We use methods such as UV light to kill any bacteria that would be harmful to humans whilst bathing if deemed necessary to protect the bathing water. Our effluent is tested regularly and reported to our regulators.
Most of our designated bathing waters in Wales are at the coast; in 2022 we had 107 designated bathing waters, of which 85 achieved the highest classification. We only have 1 designated inland bathing water in Wales (Llyn Padarn in Llanberis). The regulations used to manage river water quality look at different criteria to designated bathing waters. A river being healthy for wildlife is different to being suitable for people to swim in, so we don't usually have to disinfect final effluent to rivers.
What are Storm Overflows?
Most of the wastewater network was built a very long time ago. Some of our pipes are now 'combined' meaning they can carry both wastewater and rainwater. During heavy rain, water from roofs and road drainage can enter the pipes, which is not what they were originally designed to cope with. When the pipes become overwhelmed, relief points within the sewer known as Combined Storm Overflows (CSOs) or Storm Overflows release, mostly by automatically spilling over a weir, into our rivers or the sea. Without these relief points, we would risk flooding to streets, highways and cause toilets to overflow inside properties.
It is important to point out that storm overflows are designed to operate during heavy rain, so that if they overflow, any sewage present is heavily diluted with rain. This should also mean that rivers are in flood. These overflows are permitted by our environmental regulators during certain conditions. We investigate those we believe aren't operating properly, working with and reporting to NRW (Wales) and the EA (England). You can learn more about our storm overflows here.
Does my bathing water have a storm overflow?
We currently monitor over 99.5% of our storm overflows – you can see a map on our website here that shows the location of these assets, previous data on how often they operate. The remaining overflows not yet monitored require complex health & safety considerations to access and install, which are in progress. NRW provide detailed descriptions of designated bathing water localities including storm overflows on their website here.
Our current storm overflow alerts and bathing water quality
Our current system provides voluntary storm overflow alerts for approx. 1/3 of designated bathing waters in Wales, including some non-designated high amenity waters. These alerts indicate when a storm overflow has operated within the local area and are not the same as pollution incidents. We share our alerts with organisations such as Surfers Against Sewage (SAS) who relay them on their platform(s) for stakeholders to view.
Our alerts aim to provide our stakeholders with more knowledge to make an informed choice with regards to bathing. It is important for bathers to consider other impacts on bathing water quality, even in the absence of a storm overflow. We want our customers to have as much information as possible to be able to make an informed choice with regards to bathing and we understand that our current system is not enough for our customers. Our plan is to provide a more informative, improved service.
What's next?
We will be launching a live spill information platform on our website, within the next 12 months, that will advise of the operation of a local storm overflow within 1 hour. This will initially be prioritised for designated bathing waters and some high amenity waters already receiving alerts.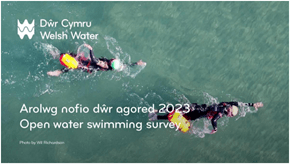 Open Water Swimming Survey 2023
PDF, 2.2MB
The second phase of this project is to provide alerts for all our storm overflows in 2025. This system will give water users what they need, the same way users may look up the weather, recent rainfall/river levels, tide information, to make an informed choice whether to bathe.
Further questions?
If you have specific queries about a river or water quality issue and would like to speak to someone, you can email RiverQualityLiaison@dwrcymru.com.
Useful information / further reading
You can learn more about how Natural Resources Wales manage bathing waters including site profiles here.
The same type of information is available from the Environment Agency here.
During prolonged periods of dry sunny weather, some areas popular for swimming can experience algal blooms. These can look similar to pollution incidents but are naturally occurring – you can learn more about algal blooms and how Natural Resources Wales identify them here.