Rhydypenau pupils design friends of Cardiff reservoirs logo
---
23 April 2021
Prior to returning to the classroom Rhydypenau Primary school pupils were challenged to get creative and come up with a logo for Friends of Cardiff Reservoirs, a volunteering group who are currently forming to work with Welsh Water to co-create events that will help protect and enhance the unique ecology of the reservoirs in north Cardiff.
The formation of the group is being led by Bernard Adshead, Treasurer of the Reservoir Action Groups and member of the ENRaW Project Board, a scheme which supports the improvement of the quality of the local environment and biodiversity, whilst broadening access to the wider population's well-being.
Reservoir Action Group (RAG) formed in 2001 to save the reservoirs from a proposed housing development, many residents of Cardiff will be familiar with the iconic RAG logo that was displayed in homes and gardens across north Cardiff. 20 years on it is hoped that the Friends of Cardiff Reservoirs logo will soon become as well known, symbolising community engagement that is helping to protect the green and blue infrastructure of Cardiff for future generations to enjoy.
Bernard said: "I felt it was important that the Friends of Cardiff Reservoirs have a logo that illustrates why the site is so special, so we tasked the pupils to come up with a design that reflects what the reservoirs mean to the local community. The submissions were fantastic and highlighted how much these young people knew about the reservoirs, even though they are too young to have ever visited the site."
Over 30 pupils aged 7 to 10 years submitted their designs in hope that their idea would be chosen to represent the group.
The entries were of such a high standard, a shortlist of three were eventually selected with the winning design being announced on Monday, at a virtual presentation, as Arushi De Silva's aged 8.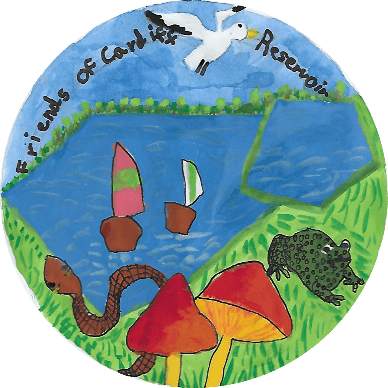 Although missing out on the winning design, runner up designs by Hamza Elsabeeny aged 8 and Osian Davies aged 8, were acknowledged at the presentation and all three were presented with a prize donated by RAG.
The winning design has now been developed into a professional logo by Tom Tribe, Director of Cardiff-based design and marketing consultancy Design Tribe, who kindly volunteered his time and expertise as someone who has registered their interest in the Friends of group. Tom was so impressed with the creativity demonstrated by the pupils of Rhydypenau Primary school, that Design Tribe sponsored a prize to acknowledge every child who entered the competition.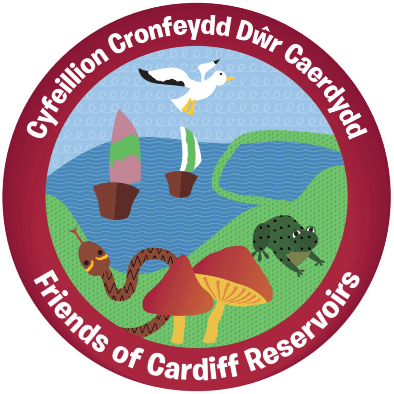 Tom said: "It was a tough job to decide on the final winner, but the chosen design stood out as it captures both reservoirs and a lot of thought has gone into how the special features can be incorporated into one logo. Well done to Arushi and all who entered – some really impressive designs."
Head teacher of Rhydypenau Primary School, Mrs Nicola Hammond, said: "20 years ago RAG held their first meeting at the school, I am delighted that the school has now been able to support the formation of the Friends of Cardiff Reservoirs group. Hopefully, it won't be long before these pupils will be able to enjoy this beautiful site, which is on our doorstep, for years to come."
Over the past year Welsh Water has been asking the community to register their interest in joining a Friends of group. With over a 140 people having come forward, volunteer subgroups have been created to formalise the independently constituted group. A new website has been created that has gone live this week to enable those who are interested to sign up as members to take the final stages to constitute the group.
The website, designed by Martin Wilmore, another volunteer who had registered an interest in the group, will have the new logo proudly displayed, and can be found at www.friendsofcardiffreservoirs.org.
Annie Smith, ENRaW Partnership Manager at Welsh Water said: "It has been a pleasure to be part of the journey that will reconnect Cardiff's community with the reservoirs, and thanks to everyone whose contribution has been instrumental in supporting the formation of the group. With lockdown restrictions easing we are now looking forward to a long-term working relationship with the community and Friends of Cardiff Reservoirs."
A programme to support volunteering and community activities will be rolled out prior to the site opening to the public. The programme will build community capacity and understanding to continue to care for the reservoirs site in environmentally appropriate ways whilst individuals are also being given the opportunity to learn new skills and reconnect with others and nature in a safe environment.
The Friends of Cardiff Reservoirs will be Welsh Water's first Friends of group, but it is hoped that this group will be a model that can share good practice and enable similar community engagement across other Welsh Water Visitor Attraction sites.
Any organisations, community groups or charities which would be interested in finding out more about the partnership opportunities which could be available at the site should contact Welsh Water at lisvaneandllanishen@dwrcymru.com.