Cilcain Reservoirs 1 & 2
---
The two reservoirs are situated just outside Cilcain village in the eastern foothills of the Clwydians in Flintshire. Along with Cilcain 3 &4 they were constructed to supply drinking water for the local area at the end of the nineteenth century.
They no longer form part of the drinking water network with customers in the area being supplied from the Alwen reservoir. Cilcain 1 and 2 are not accessible to the general public.
What we are doing on site
As the reservoirs no longer form part of our water network, as a not for profit company, maintaining and investing in them to meet current reservoir safety standards, when no longer required would not make best use of customer money.
We plan to restore them to their former natural state and re-naturalise this area of the watercourse. The reservoirs will once again become a river forming part of the Nant Gain watercourse – putting them back to how they were before the dam was raised in the early 1900s. Cilcain 3&4 will remain as reservoirs.
How are we doing the work
The dam structures at Cilcain 1&2 will be removed and a new channel constructed, allowing the river to flow through it's natural course as it would have done before the dams were built.
A geomorphologist will be employed during the construction to ensure the new river channel is built as closely as possible to its original path.
Environment
Through careful design, it is hoped that the scheme will lead to an improvement in the biodiversity in the area, allowing wildlife to flourish .
Natural Resources Wales has been consulted throughout the scheme design and is positive about its ecological benefits allowing wildlife to flourish. The reservoirs are also located within an Area of Outstanding Natural Beauty near Moel Famau and returning the site to nature will be in keeping with the surrounding landscape.
Timeline
We expect the work to begin in Spring 2023.
Returning the Cilcain 1 and 2 reservoirs to their natural state is part of a wider review of dams in addition to changes already announced for Llyn Bran and Llyn Anafon, with both these sites returning to their natural lake status.
After the work
We envisage the area to return to nature with a meandering water way through the area now taken up by the reservoirs, as pictured in our artist's impression.
Work is scheduled to be completed by Autumn 2023.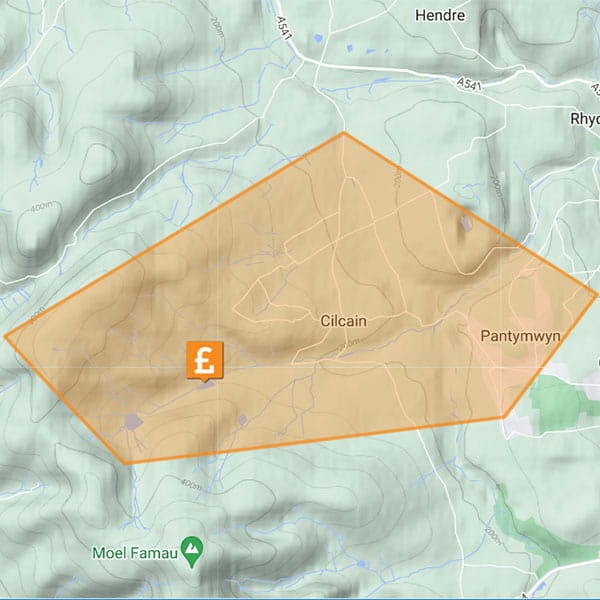 In Your Area
Keep up to date
For the latest on the project and what's happening on site, please go to our In Your Area page.
Find out more