Maize Undersowing 2022
---
Following a successful trial in 2021, we are offering our maize undersowing scheme to drinking water catchments in South West Wales for a second year. The scheme is part of our ongoing programme to protect drinking water quality. It offers maize growers the opportunity to receive a free and confidential Charter Visit carried out by the Maize Growers Association (MGA), as well as a one-off payment to undersow maize crops with grass.
Registration is now open and operates on a first come, first served basis.
Contact our partners, Field Options who are working with us to offer this scheme.
Email: GarethWilliams@procam.co.uk
Tel: 07581750173
Alternatively, you can contact one of our Catchment Partnership Coordinators
Email: WaterSource@dwrcymru.com
Tel: 01443 452716.
Registration
You can register your interest from today with Field Options by calling 07581 750173 or alternatively speak to one of our Catchment Partnership Coordinators by calling 01443 452716.
Confirmation
We will confirm eligibility.
Charter Visits
All eligible growers will be encouraged to participate in a Charter Visit with the MGA. This will be a free and confidential service provided by an MGA advisor. The Charter Visit will focus on three key areas of maize management:
Site (field) suitability and maturity group guidance
Nutrient Management Planning with a focus on Nitrogen and Phosphate supply and demand
Post-harvest maize field management including Undersowing and after sowing of cover crops as well as post-harvest cultivation, all of which are focused on reducing soil and nutrient loss during the autumn and winter following maize
Following the visit, growers will receive a Charter Report by the MGA.
Undersowing
You will need to notify Field Options when you have drilled your maize crop to arrange for delivery of grass seed which needs to be undersown approximately 6 weeks later (when maize has 4-6 leaves).
Seed will need to be purchased directly from Field Options to be eligible to receive the subsidy. £6/acre subsidy will be deducted from the total. All grass seed purchased under the scheme will need to be undersown with maize. Under no circumstances should seed be used for alternative use.
Please see Terms and Conditions for full details.
The scheme is available to maize growers in the following drinking water catchments:
Llys y Fran
Rosebush
Eastern Cleddau
Western Cleddau
Valley Court
Pendine
This map highlights the eligible areas: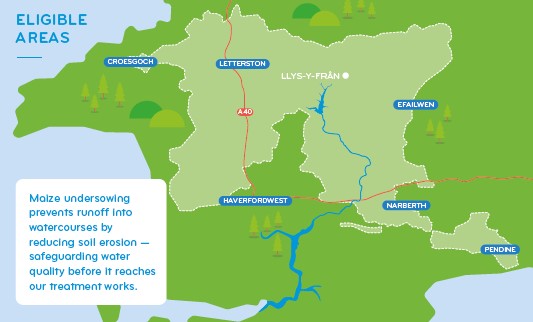 If you're unsure of your eligibility, then please call Field Options on 07581750173. Alternatively speak to one of our catchment partnership coordinators by calling 01443 452716.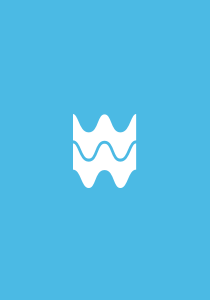 Subsidised maize undersowing
PDF, 159.7kB
View and download leaflet here.